DataAnalyzer
Analysis Software
movisens DataAnalyzer is a software for the processing and analysis of sensor data - designed for research applications. The software is tailored for the use with movisens sensors (Move II, ekgMove, and edaMove).
The following analysis modules are available:
Physical Activity
Energy Expenditure
Cardio/HRV
Electrodermal Activity
DataAnalyzer allows the calculation of secondary parameter and the generation of result tables (Excel) and reports (PDF).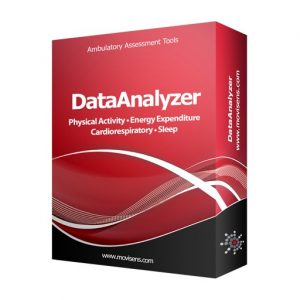 Top features
Batch analyze complete studies with one click
Free selection of output parameters
Configurable output intervals
Output is optimized for further processing (Excel, SPSS)
Integrated generator for informative reports (PDF)
Applications
Analysis of activity, ECG and EDA measurement data
Activity recognition and energy expenditure calculation
Heart rate and heart rate variability
Electrodermal activity
Research of the autonomic nervous system (ANS)
Behavioral monitoring
Psycho physiologic stress monitoring
Matching products and services
Downloads
| | |
| --- | --- |
| Software | Please read the license agreement thoroughly. By using the software, you are agreeing to be bound by all the terms and conditions of this agreement. |
| Manuals | You can find answers to the most common questions here. |
| Data examples | |
| Example reports | |
| External Tools | |
Description of Modules
Physical Activity-Modul:
With the Physical Activity Module you can analyze physical activity data of the sensors Move2, ekgMove, edaMove. The following output parameters are available:
Body Position
Acceleration along the body axis
Steps
Activity class
Inclination of body
Altitude
Vertical speed
Physical activity report (PDF)
Energy Expenditure-Modul:
With the Energy Expenditure Module you can analyze physical activity data of the sensors Move2, ekgMove with regard to energy expenditure. The following output parameters are available:
Activity Energy Expenditure
Total Energy Expenditure
Metabolic Equivalent of Task / MET
Energy expenditure summary
Physical activity and energy expenditure report (PDF)
Cardio/HRV-Modul
With the Cardo/HRV-Modul you can analyze the ECG data of the sensor ekgMove. The following output parameters are available:
ECG R peaks
Normal beats and intervals
Beat by beat heart rate
Heart rate
HRV parameter Low Frequency (LF)
HRV parameter High Frequency (HF)
HRV parameter Low to High Frequency Ratio (LF/HF)
HRV parameter SDNN
HRV parameter RMSSD
HRV parameter SD1
HRV parameter SD2
HRV parameter SD2/SD1
HRV report (PDF)
EDA-Modul
With the EDA Module you can analyze the EDA data of the sensor edaMove. The following output parameters are available:
Electrodermal Activity report as text file<
Skin conductance level
SCR amplitudes
SCR rise times
SCR Energies
SCR half recovery times
Number of SCR
Mean of SCR Amplitudes
Mean of SCR rise times
Mean of SCR energy
Mean of SCR recovery times
System Requirements
The following requirements have to be me to use DataAnalyzer:
PC with Microsoft Windows XP or higher
Microsoft Excel for reports in Excel format
Administrator rights during installation
A minimum of 450 MB free space on hard disc
Change history
New PDF reports
Support for new sensors and sensor positions
New report generator for PDF reports
Added wear time detection algorithms
Improved filtering of RR intervals
Improved HRV parameter RMSSD
New algorithms for ambient light sensors (illumination and color temperature)
No need of LaTeX and Excel as system requirements
Improved filtering of RR list
Improved HRV spectral parameter calculation
Improved AEE, TEE and MET Calculation by using additional Model for slopes
Bugfixes in PDF reports
Support for new sensors
Improved EDA SCR detection
Added missing parameter EdaScl (Skin Conductance Level)
New parameter ECG derived respiration (EDR)
Considering output interval for EdaArousal
Added sitting/standing detection (sensor position thigh)
Added temperature parameter
Added HRV Parameter pNN50
Output of all selected parameters as Excel including clearly laid out column descriptions (Results.xslx)
New module for Cardio/HRV with all common parametern, Baevsky Stress Index and a new HRV report as PDF
New module for EDA with all relevant EDA parameters, including new arousal parameter
All PDF reports revised and now availabe in German and English
New PDF overview report for pyhsical activity
Improved detection of body positions
Improved energy expenditure calculation while resting/sitting
Improved plots and layout in all reports
Literature and Validation
Does a 20-week aerobic exercise training programme increase our capabilities to buffer real-life stressors? A randomized, controlled trial using ambulatory assessment.

Home-based system for physical activity monitoring in patients with multiple sclerosis (Pilot study)..

Using Support Vector Regression for Assessing Human Energy Expenditure Using a Triaxial Accelerometer and a Barometer.

A Comparison of Two Commercial Activity Monitors for Measuring Step Counts During Different Everyday Life Walking Activities.

Classification of Human Physical Activity and Energy Expenditure Estimation by Accelerometry and Barometry.

Assessment of Human Gait Speed and Energy Expenditure Using a Single Triaxial Accelerometer.

A new method to estimate energy expenditure using accelerometry and barometry-based energy models.

Estimation of energy expenditure using accelerometers and activity-based energy models - validation of a new device.

Energieumsatzmessung mit Aktivitätssensoren – Validität des kmsMove-Akzelerometers.

Validity of the kmsMove-sensor in calculating energy expenditure during different walking intensities.

Heart rate variability: standards of measurement, physiological interpretation and clinical use. Task Force of the European Society of Cardiology and the North American Society of Pacing and Electrophysiology..
You can find more publications here.