DataAnalyzer
– Sensor Data Analysis
The movisens DataAnalyzer processes raw sensor data to calculate physiological parameters with a selectable output interval in just a few clicks.
The DataAnalyzer extracts the selected parameters into .csv format, allowing researchers to delve deeper and process the data further in Excel or SPSS. For a big picture overview, our pdf reports provide a great summary of the key information extracted from the sensor in easy to read charts and tables.
The software package works with raw sensor data saved in the unisens format, and complements our range of physiological sensors (Move 4, EcgMove 4, LightMove 3, EdaMove 3). The DataAnalyzer also allows the batch processing of an entire study cohort, automatically displaying the available parameters based on the sensor type, and wear position.
As with our sensors, the DataAnalyzer is a one-off purchase with no renewal or subscription fees. Once you pay for it, you own it. It comes standard with algorithms that allow the calculation of physical parameters derived from the data gathered by the class leading accelerometers featured in all of our sensors (Move 4, EcgMove 4, LightMove 3, EdaMove 3).
The following additional modules are available for individual purchase:
Energy Expenditure
Cardio/HRV
Electrodermal Activity
Sleep
Ambient Light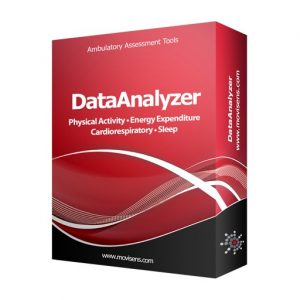 Top features
Batch analyze complete studies with one click
Selectable output parameters
Configurable output intervals
Optimized output that's suitable for further processing (Excel, SPSS)
Integrated generator of informative PDF reports
Applications
Analysis of activity, ECG and EDA measurement data
Activity recognition and energy expenditure calculation
Heart rate and heart rate variability
Electrodermal activity
Research of the autonomic nervous system (ANS)
Behavioral monitoring
Psycho-physiological stress monitoring
Matching products and services
Downloads
| | |
| --- | --- |
| Software | Please read the license agreement thoroughly. By using the software, you are agreeing to be bound by all the terms and conditions of this agreement. |
| Manuals | You can find answers to the most common questions here. |
| Data examples | |
| Example reports | |
| External Tools | |
System Requirements
The DataAnalyzer needs the following:
A PC with Microsoft Windows 7 or higher, 64bit
Microsoft Excel for reports in Excel format
Administrator rights during installation
A minimum of 2.1 GB free space on hard disc
Literature and Validation
Brute Force ECG Feature Extraction Applied on Discomfort Detection.

An experience sampling study on the nature of the interaction between traumatic experiences, negative affect in everyday life, and threat beliefs.

Immediate and sustained effects of intermittent exercise on inhibitory control and task-related heart rate variability in adolescents.

A mixed-methods study of physiological reactivity to domain-specific problem solving: methodological perspectives for process-accompanying research in VET.

Does a 20-week aerobic exercise training programme increase our capabilities to buffer real-life stressors? A randomized, controlled trial using ambulatory assessment.

Home-based system for physical activity monitoring in patients with multiple sclerosis (Pilot study)..

Using Support Vector Regression for Assessing Human Energy Expenditure Using a Triaxial Accelerometer and a Barometer.

A Comparison of Two Commercial Activity Monitors for Measuring Step Counts During Different Everyday Life Walking Activities.

Classification of Human Physical Activity and Energy Expenditure Estimation by Accelerometry and Barometry.

Assessment of Human Gait Speed and Energy Expenditure Using a Single Triaxial Accelerometer.

A new method to estimate energy expenditure using accelerometry and barometry-based energy models.

Estimation of energy expenditure using accelerometers and activity-based energy models - validation of a new device.

Energieumsatzmessung mit Aktivitätssensoren – Validität des kmsMove-Akzelerometers.

Validity of the kmsMove-sensor in calculating energy expenditure during different walking intensities.

Heart rate variability: standards of measurement, physiological interpretation and clinical use. Task Force of the European Society of Cardiology and the North American Society of Pacing and Electrophysiology..
You can find more publications here.