LightMove 4
– Light and Activity Sensor
As part of the new sensor generation, the LightMove 4 activity sensor combines the previous benefits of the proven LightMove 3 with the 4th generation enhancements, allowing us to address a wide range of researchers needs, implement their requests, and further enhance the quality of the sensors. Thus, the LightMove 4 strengthens its position as the go to device for researchers who care about high quality data.
The 4th sensor generation offers researchers numerous advantages, including:
New design for optimal handling: The improved case offers a sleek design aesthetic offering many practical advantages. The waterproof and dirt-repellent housing coupled with the improved carrying systems make the sensors simpler, more versatile and safer to use.
More data collection capabilities: Thanks to the integration of the latest technologies, the 4th generation sensors now incorporate a Gyroscope (Angular Rate Sensor).
Improved analysis possibilities: Our highly acclaimed acceleration sensor also received an overhaul, and now records the measurement data at an even higher resolution. Consequently, we've achieved significant improvements in the obtainable results, especially in the analysis of sedentary behavior and non-wear detection.
Increased data retention: A new Bluetooth buffer ensures the preservation of data during disconnection, with the buffered data transferred upon reconnection; thus guaranteeing a continuous data recording at all times.
Broader research applications: Already a class leader in quality data acquisition for many research areas, these improvements expand the LightMove 4's research capabilities. All the while remaining the best choice for researcher's requiring high quality physical activity data and light levels.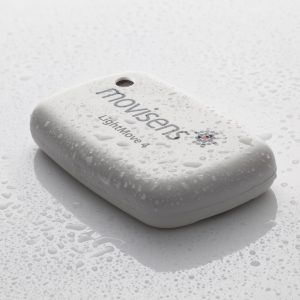 The LightMove 4 adds five channels of light detection to the renown physical activity measurement capabilities of the Move 4. This combination enables a more detailed analysis and understanding of participant behaviour in the context of daily living. The high sensitivity of the light sensor enables the recording of even the most subtle levels of lighting.
The sensor records a whole suite of measurement signals (5 Channels of light detection, 3D-Accelerometer, Gyroscope, Air Pressure and Temperature) for up to 4 weeks, providing a rich source of data for further analysis. The LightMove 4 can also calculate secondary parameters on board the sensor, and transmit the calculated results via Bluetooth Smart.
Our DataAnalyzer software enables the easy calculation of a multitude of secondary parameters from the raw data captured by the sensor. Parameters such as illuminance (lux), Brightness (from darkness to sunlight), Colour Temperature, Activity Class, Steps, Energy Expenditure und Metabolic Equivalent of Task (MET) are available, in addition to a suite of sleep parameters.
The LightMove 4 opens new possibilities for researchers who understand the interplay between light and physical activity, allowing their research to expand and contribute to this growing body of knowledge.
Top-Features
New design with new carrying systems in a waterproof housing
Advanced data acquisition through integrated gyroscope
New acceleration sensor with higher resolution
Detection of lighting environment
Analysis of light radiation intensity
Live analysis of measurement data
Improved data transfer via Bluetooth Smart interface
Exact and validated detection of everyday activities
Exact and validated detection of Energy Expenditure
Optimised non-wear detection
Java API for USB (Windows)
API: Example implementation for Bluetooth Smart (Android)
Applications
Interactive ambulatory assessment
Sleep analysis
Recording sedentary behaviour
Behavioural monitoring
Activity monitoring
Mobile long term monitoring of ambient light
Energy estimation and activity detection
Step detection
Detection of inactivity, sitting, and standing
Matching products and services
Downloads
| | |
| --- | --- |
| Newsletter | We constantly strive to develop and improve all of our products. To benefit from these improvements, please subscribe to our newsletter so that we can keep you fully informed. Register now. |
| Software | Please read the license agreement thoroughly. By using the software, you are agreeing to be bound by all the terms and conditions of this agreement. |
| Documentation | |
| External Tools | |
Technical Data
Power supply

Lithium-Polymer-Battery

Battery voltage

3,7 V

Number of charging cycles

300 (with 1 C / 1 C > 80%)

Internal memory

4 GB

Maximum recording capacity

4 weeks

Battery run time

~ 7 days

Recharging time

~ 1 hour

Size of sensor (W x H x D)

62,3 mm x 38,6 mm x 11,5 mm

Weight of sensor

26 g

Protection rate

Waterproof (IP64)

Internal sensors

Ambient light sensor:

Channels: 5 (red, green, blue, clear, IR)

Measurement range: 0-~45000 lux

Resolution: Up to ~0.011 lux (at low end)

Output rate: 1 Hz

3D acceleration sensor:

Measurement range: +/- 16 g

Output rate: 64 Hz

Rotation rate sensor:

Measurement range: +/-2000dps

Resolution: 70 mdps

Output rate: 64 Hz

Pressure sensor:

Measurement range: 300 - 1100 hPa

Noise: 0,03 hPa

Output rate: 8 Hz

Temperature sensor:

Output rate: 1 Hz

Live analysis

Light Mean

Movement Acceleration

Step count

Indicators

LED, 3-color

Vibration alarm

User Interfaces

Marker (tapping)

Interfaces

Micro-USB, Bluetooth Smart (4.0)

API

Java API for USB (Windows)

Example for Bluetooth Smart (Android)

Wear locations

Wrist

Wearing systems

Wrist Band

Environmental conditions

Temperature:

-20 °C to 60 °C

0 °C to 45 °C during charging

Atmospheric pressure:

300 to 1200 hPa absolute

Warranty

2 years
Literature und Validation
The dynamical association between physical activity and affect in the daily life of individuals with ADHD.

Wearable Light Sensors in Case Study Evaluations.

Combining physical and cognitive training to improve kindergarten children's executive functions: A cluster randomized controlled trial.

Assessment of the circadian stimulus potential of an integrative lighting system in an office area.

Emulación de dispositivos wearables y monitorización remota inteligente de pacientes pediátricos.

Embodied learning in the classroom: Effects on primary school children's attention and foreign language vocabulary learning.

Bright light therapy versus physical exercise to prevent co-morbid depression and obesity in adolescents and young adults with attention-deficit / hyperactivity disorder: study protocol for a randomized controlled trial.
You can find more publications here.